Jake Gyllenhaal is among those actors who steadily developed from emerging young talent to one of Hollywood's most reputable actors. He knows the art of effortlessly enhancing the appeal of any film with his gripping acting.
Gyllenhaal started at a very young age. He first appeared in City Slickers in 1991 alongside Billy Crystal. After that, he got roles in Homegrown and A Dangerous Woman, both films directed by his father, Stephen Gyllenhaal.
His career breakthrough roles were in "October Sky" and as a troubled teenage boy in "Donnie Darko." His role in Donnie Darko was the ideal chance to put his skills to the test. The character was unique and different from his past roles. As a psychologically disturbed teenager, he took the role to the next level of performance and has never looked back since. He is known to have a flair for movies with strong themes, action, and romance. If you're a fan of Jake Gyllenhaal, check out the list of his finest work!
Prisoners (2013)
Runtime: 2hrs. 33mins
Director: Denis Villeneuve
Star Cast: Hugh Jackman, Jake Gyllenhaal, Viola Davis
Genre: Crime, Drama, Mystery
IMDB rating: 8.1
The movie was a success and made $122 million worldwide, with the most positive reviews. The National Board of Review selected it as one of the top 10 films in 2013. It was also nominated for Best Cinematography at the 86th Academy Awards. The story revolves around the two girls kidnapped in Pennsylvania and Detective Loki (Gyllenhaal) searching for the alleged kidnapper.
Donnie Darko (2001)
Runtime: 1hr. 53mins
Director: Richard Kelly
Star Cast: Jake Gyllenhaal, Jena Malone, Mary McDonnell
Genre: Drama, Mystery, Sci-Fi
IMDB rating: 8.0
It's an American Sci-fi Mystery thriller that won the Academy of Science, Fiction, Fantasy, and Horror Films Special Awards. In fact, Jake Gyllenhall was successful in acquiring the Chlotrudis Award for Best Actor. The plot focuses on the Psychologically troubled teenager Donnie Darko (Gyllenhaal). Donnie mysteriously survived an accident, resulting in seeing things that don't make sense. He sees a shadowy figure, Frank, in a rabbit costume, telling him that the world ends in 28 days. Frank starts manipulating Donnie into committing various crimes.
Nightcrawler (2014)
Runtime: 1hr. 57mins
Director: Dan Gilroy
Star Cast: Jake Gyllenhaal, Rene Russo, Bill Paxton
Genre: Crime, Drama, Thriller
IMDB rating: 7.8
The movie Nightcrawler is an American Psychological thriller and a must-see for action-thriller lovers. It truly does a great job of entrapping you in a bleak, dark world and making you stick to your seats. The film was nominated for the Best Original Screenplay at 87the Academy Awards. The story is about Louis Bloom (Gyllenhaal), who puts himself in the crime world of journalism. A con man who records violent events at night in LA and sells the footage to the local news stations.
October Sky (1999)
Runtime: 1hr. 48mins
Director: Joe Johnston
Star Cast: Jake Gyllenhaal, Chris Cooper, Laura Dern
Genre: Biography, Drama, Family
IMDB rating: 7.8
October Sky is a biographical drama, successful in winning the Critics' Choice Movie Award for Best Family Film in 2000. A true story of a young man Homer Hickam (Gyllenhaal), a coal miner's son who grew up in Coalwood, West Virginia. He sees his future mining the coal just like his father, but everything changes after the event of a Satellite launch. He was inspired by the event when Sputnik, the first satellite, went into orbit. Now his only dream is to learn how to build rockets.
Zodiac (2007)
Runtime: 2hrs. 37mins
Director: David Fincher
Star Cast: Jake Gyllenhaal, Robert Downey Jr., Mark Ruffalo
Genre: Crime, Drama, Mystery
IMDB rating: 7.7
The film is a mystery thriller for which David Fincher won the Dublin Film Critics Circle awards for best director. It is the story of a serial killer who kills people and sends murder details to the police. The detectives (Mark Ruffalo, Anthony Edwards) and reporters (Jake Gyllenhaal, Robert Downey Jr.) are obsessed with identifying the killer.
Brokeback Mountain (2005)
Runtime: 2hrs. 14mins
Director: Ang Lee
Star Cast: Jake Gyllenhaal, Heath Ledger, Michelle Williams
Genre: Drama, Romance
IMDB rating: 7.7
It is a romantic drama film that got worldwide admiration, with special mention given to Heath Ledger and Jake Gyllenhaal's acting. In addition, it was a financial triumph, making nearly $178 million against its $14 million budget. It's a story about a romantic relationship between two shepherds, Ennis (Ledger) and Jack (Gyllenhaal). But when the guys get married to their girlfriends, everything gets complicated.
End Of Watch (2012)
Runtime: 1hr. 49mins
Director: David Ayer
Star Cast: Jake Gyllenhaal, Michael Peña, Anna Kendrick
Genre: Action, Adventure, Crime
IMDB rating: 7.6
It is a documentary-style action thriller movie. End of Watch was released in American theatres on 21 September 2012 and made over $57 million in box office revenue. It depicts the daily grind of police officers Brian (Jake) and Mike (Michael), working in South Angeles. But they are unaware of what's ahead. So what will unfold when they come across criminal forces that are stronger than themselves?
Nocturnal Animals (2016)
Runtime: 1hr. 56mins
Director: Tom Ford
Star Cast: Amy Adams, Jake Gyllenhaal, Michael Shannon
Genre: Drama, Thriller
IMDB rating: 7.5
It's a psychological thriller inspired by a novel, Tony and Susan, by Austin Wright. The movie received great reviews, and the actors, including Jake Gyllenhaal, were praised highly for their performances. The film successfully brought in more than $32 million globally. The story is about an art gallery owner named Susan. She receives her ex-husband's (Gyllenhaal) latest novel and starts noticing connections to their previous married life.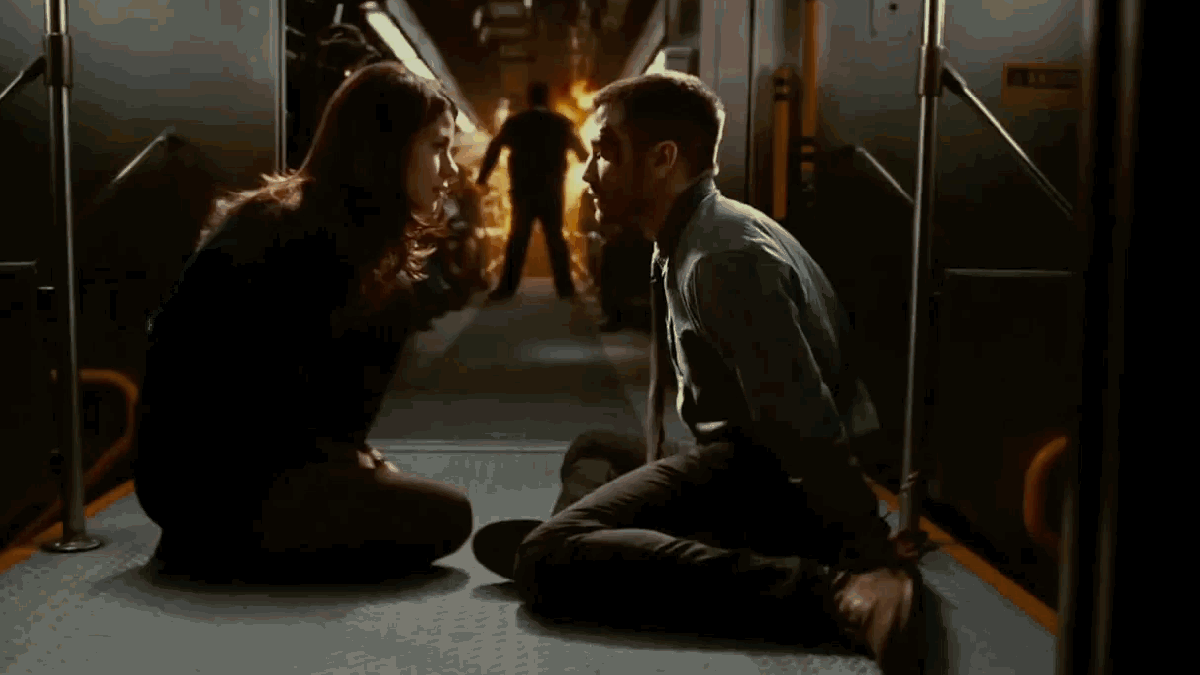 Source Code (2011)
Runtime: 1hr. 33mins
Director: Duncan Jones
Star Cast: Jake Gyllenhaal, Michelle Monaghan, Vera Farmiga
Genre: Action, Drama, Mystery
IMDB rating: 7.5
Source Code is a Sci-Fi thriller that pictures an ordinary man dealing with an extraordinary situation. The film received a Central Ohio Film Critics Association Award for Best Original Screenplay. The story of an Army pilot, Colter Stevens (Gyllenhaal), who was seriously hurt during a military operation in the Middle East. The next thing he knows, he wakes up inside an 8-minute virtual replica train that exploded. Now his job is to identify the culprit who plans to implant the bomb again.
Spider-Man: Far From Home (2019)
Runtime: 2hrs. 9mins
Director: Jon Watts
Star Cast: Tom Holland, Samuel L. Jackson, Jake Gyllenhaal
Genre: Action, Adventure, Sci-Fi
IMDB rating: 7.4
The movie is a sequel to Spider-Man: Homecoming, based on Marvel's comic character Spiderman. It was the last movie in MCU's 3rd phase. The viewers gave positive reviews and applauded Hollands and Gyllenhaal's performances. Its global box office total of $1.1 billion made it the first Spider-Man movie to surpass the billion-dollar mark. After the events of Endgame (2019), Mysterio (Gyllenhaal) and Nick Fury(Jackson) approached Peter to deal with The Elementals. The Elementals are four extradimensional humanoids with immortality and control over natural forces.